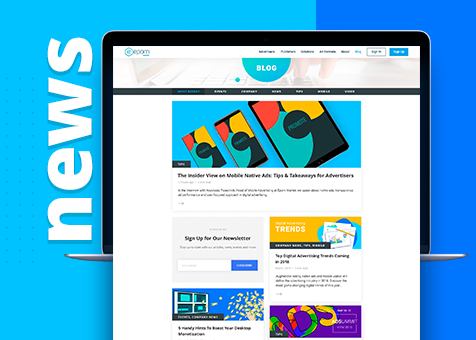 Meet Recently Launched Epom Apps website
3 min read | by Epom
After hard and dedicated work of our team, we are pleased to announce the launch of a website for recently developed apps monetization platform - Epom Apps. The new website is available at www.apps.epom.com
Our goal with the website is to provide our visitors with a clear and accurate information about Epom Apps services and solutions, and demonstrate the way we can help app developers monetize their apps efficiently. The website provides a clear understanding of how the company operates, and describes how to start working with the platform immediately. Here, you will always be able to get the latest version of the SDK you need depending on the platform your apps are running on. Alongside with an SDK, you can find there an integration manual that will make the setup process easier. Besides, you have an opportunity to register an account and get in touch with our monetization experts on any question you may have related to the quick increase of your mobile advertising revenues.
Epom Apps is an efficient way to generate revenues from iOS and Android applications. With a smart optimization algorithm and cutting-edge ad formats, the inventory of our clients shows up to 50% higher eCPM rates. Combination of direct and programmatic offers result in a steady supply of creatives that are relevant to your users. Besides, Epom Apps offers convenient and timely payouts on a weekly basis and 24-hours support of dedicated managers - all these will help you to get revenue from your apps with literally no efforts.
Going forward, we will continually expand the content base of our website in order to keep you updated with the latest features, services, and news of Epom Apps.
As of now, you are just one step away from starting you app monetization with Epom Apps. Sign Up and start making revenue right away!
previous post
next post