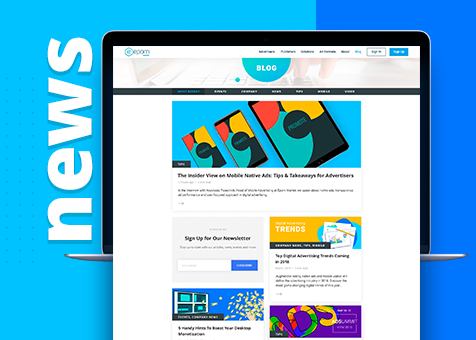 Epom Ad Server and Epom Affiliate Network at Israel Mobile Summit 2016
4 min read | by Epom
We will be attending Israel Mobile Summit 2016. The event will be held in Tel Aviv on June 13-15, and is ultimately important for everyone interested in mobile industry. It is the place to learn from peers and share own success stories. The event will gather everyone engaged in mobile app ecosystem - online marketers, entrepreneurs, app developers, game publishers, and ad networks. Summit programme features dozens of sessions split into three different tracks: Monetization & Games, Innovation & Growth, and Analytics & SDKs.
Last year Israel Mobile Summit exceeded all expectations as it brought together the largest number of participants compared to previous years. It featured over 1200 attendees, 40 speakers, and 20 exhibiting startups. The event contained lively mobile topics discussions, the contest of mobile startups, and lots of networking.
We can't wait to visit the conference this year. Epom developed its products significantly and we want to share it with mobile brilliant minds. We will be presenting the latest Epom products – Epom Ad Server with its functionality specifically tailored for the needs of affiliate networks – and Epom Affiliate Network itself. The latter focuses on high-converting traffic from top geos and covers high-paying direct and third-party offers. The service boasts with its simplicity, security, and high-quality support.
Epom Ad Server facilitates performance-based marketing for all parties involved. It enables traffic-tracking, granular real-time reporting, and a top-level fraud protection.
Come to meet us and find out more information on Epom products. To schedule a meeting, please complete the following form.
We are looking forward to seeing you in Tel Aviv!
previous post
next post