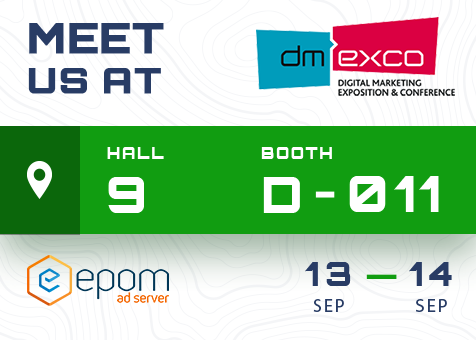 Join Epom at DMEXCO
3 min read | by Epom
Starting from being a local German gathering, DMEXCO now is a must–attend, global ad–tech event for every person involved into online advertising. It combines the expo of the leading technologies and the future–oriented conference that focuses on challenges of the digital ecosystem.
The event attracts over 50,000 visitors and around 1000 exhibitors. Ad networks, tracking platforms, analytics, affiliates, publishers, service providers — you fill find any party of the digital advertising ecosystem at the event.
Epom is excited to come back to DMEXCO and bring new developments of our products to give it to your hands. We have developed self–serve DSP platform for you to connect to as many SSPs as you need and increase the traffic volume. Apart from that, we'll be glad to tell you about our unique video and formats and mobile native ad units for effective monetization.
Join us at the award-winning event for outstanding networking opportunities, exclusive deals, and establishing a long-lasting prosperous business relationships. Schedule a meeting with our team of advertising experts to learn more about how to optimize your traffic monetization and overall advertising strategy. Looking forward to seeing you at Cologne!
Find us at our booth, Hall 9, D - 011. Hurry up and book convenient time for meeting with us.
Schedule a meeting
previous post
next post