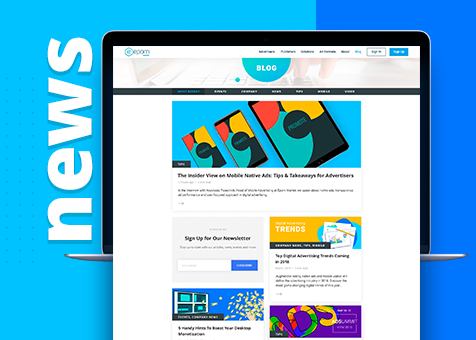 Key Affiliate Marketing Trends for 2017. Inspired by AWA Bangkok
6 min read | by Epom
Affiliate World Asia came to the end and it was nothing than awesome. Epom could not imagine better end of the current marketing year than to spend it in the inspirational surrounding of the brightest minds in the affiliate industry. This time, the event united under one roof more than 2000 attendees from over 60 countries for learning, networking and looking into the future of the affiliate industry.
Epom exhibited at AWA 2016 to reunite with fellow marketers, clients and build strong connections within the ever-growing industry. We worked hard this year to advance in the affiliate industry and we're proud to introduce our Epom Ad Server for both ad serving campaigns and affiliate tracking within one account. Besides, we showcased our own Epom Affiliate Network with thousands of direct and third-party mobile offers.
Here are the insights from the AWA from the Epom's perspective. We couldn't miss the speech of the most anticipated speakers of the event, Neil Patel, where he shared the experience of growing an online business and boosting affiliate earnings with webinars. Craig Roberts from Teespring in his speech 'How Marketers are Building Million Dollar eCommerce Businesses' focused on the role of media buying in e-commerce. Besides, this topic was also covered by the experts during the Shopify panel session.
Award Winning Digital Marketer & Blogger Matthew Woodward (@MattWoodwardUK), who claims to generate $423,559 in affiliate commissions, was also one of the top-profile speakers to attend AWA. In his panel he shared the secrets on creating helpful and engaging content that sends affiliate sales wild.
After the long hours of valuable speeches, we have highlighted the main tips and trends for the upcoming year within the affiliate industry:
'Friendly referring' is on-the-go trend that is much more effective than traditional affiliate programs. It will help you to decrease the cost per acquisition and reach users that matter.
Provide value. Create the best possible experience to your audience and readers. Other way, you should forget about making profits from your website. The times when you could make money from a low-quality websites have long gone.
Comfort is a disease for your business. Optimization is all you need - be ready for the testing of your content and watching your analytics.
Go Mobile. For the last several years mobile is beating desktop. Thus, there is an opportunity for website owners to reach more people through mobile devices. As traffic from mobile devices continues to grow, businesses will need to ensure they have strong mobile marketing strategies to reach their audience and crack mobile conversions.
Video vs Content. Video content continues to be trending compared to other media. However, remember that the content should be relevant, engaging, and not annoying. By the way, native advertising has not been cancelled.
Epom had a great time at Affiliate World Asia, and it was an awesome ending of the current year. We are looking ahead to the new year and new business opportunities! You can meet our team face to face again in January at Affiliate Summit West in Las Vegas. In order to book a meeting with our team there, just fill out the form.
See you soon.
previous post
next post