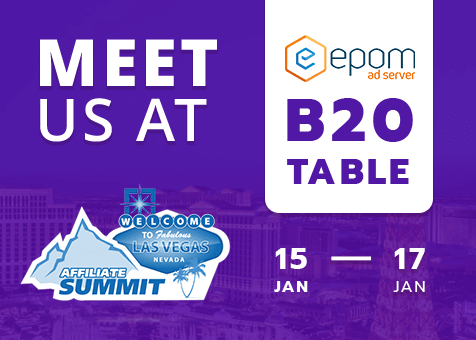 Meet Epom at Affiliate Summit West 2017
3 min read | by Epom
Epom starts its new year in an intense mode to accomplish all the set goals and bring the ideas into the reality. We are heading to the exciting event - Affiliate Summit West - that takes place in the City of Sin, Las Vegas, on January 15-17, 2017.
For the three days, Las Vegas will become a hotspot for affiliates, vendors, traffic sources, and networks. Apart from the expo itself where the brands will be able to showcase their achievements, there will a pull of speaker's sessions that will help to understand the landscape of affiliate marketing, key trends within the industry, and the challenges that we all may face in the upcoming year.
Epom will be exhibiting at Meet Market, table B20. Being a customer focused company, we broke our backs previous year to develop essentially necessary features and products and we are ready to show it to you. We will present our latest developments regarding affiliate tracking software, bring to you the highest-converting affiliate offers, and share all you need to know to scale up you business with Epom.
Affiliates, advertisers, traffic sources, and networks - we welcome you to stop by our booth as we have a lot of exclusive things to offer to each of you.
Stop by our table B20 at Meet Market and meet our experts - Andrew, Sergey, and Kate. They will be happy to share the insights with you.
Make sure to book in advance the meeting with our team! Let's discuss our business opportunities that will be mutually beneficial and will help us to grow together.
Schedule a meeting
previous post
next post