5 Handy Hints To Boost Your Desktop Monetization
6 min read | by Epom
When it comes to monetization, publishers more often stake on mobile ads rather than desktop advertising. Nowadays, most industry players consider desktop ads obsolete or even outdated. This tendency seems quite reasonable in our fast-moving world with its global digitization and information glut. On the other hand, the latest marketing surveys have shown that it is too early to write desktop advertising off. Below we are going to find out why.
In mid-2017 brands like Samsung, LG and Procter & Gamble started to increase their spends on desktop ad campaigns. Electronics company Samsung made a big buzz by raising desktop Q2 budget up to 450% compared to the previous quarter. As a result, the company invested 72% of their total ad budget to display advertising. An incredible Pathmatics research discovered even more surprising insights. Have you heard that Wix.com company shelled out $42 million into desktop video ads? And Samsung invested over $ 4.2 million only in promoting Galaxy S8 mobile phone on desktop devices. These Q2 numbers are definitely worth thinking about. Speaking about top desktop traffic buyers, brands like LG, Amazon, Capital One Financial Corporation, Toyota, Chevrolet and Comcast are also in the list.
Till the end of 2017 global ad spends expect to reach $591 billion. So it is just a perfect time to put your skates on and pull away in this race before the end of the year.
We picked up a few proven tips that will help to make your desktop advertising great again.
Focus on users, not revenues
Sometimes publishers forget about one essential thing: nothing is going to work if Internet users are not willing to spend their time on your site. Do you know your audience? What books they read or what brands prefer? Whether they like cats or dogs? What they do before going to bed? Such details might be crucial when it comes to the battle for users' attention.
The truth is that not only your content, but also advertisements should help users to cope with life. Think over this before choosing new demand partners and working on your marketing strategy. According to Pathmatics statistics, the finance, auto, electronics, media and retail brands are more likely to invest in desktop advertising. If some of these categories of products are interesting for your audience do a thorough research and get the right advertisers on board.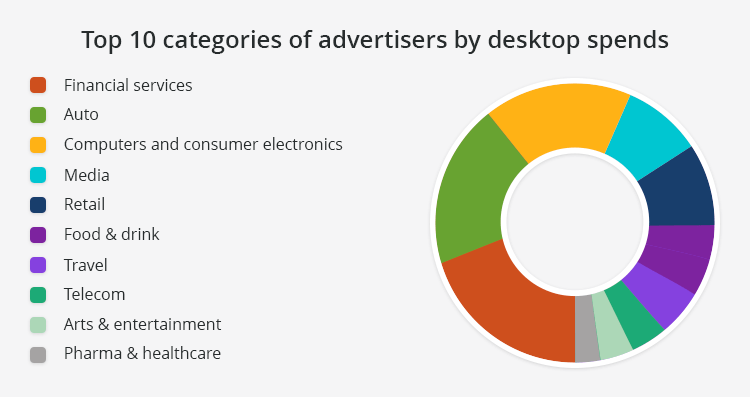 Find a reliable advertising partner
This year the whole online advertising ecosystem was affected by traffic arbitrage. Some bad actors made a killing on inventory reselling and set an example for smaller ad companies who also managed to bite this luscious steak. Publishers turn into cash cows for unreliable advertisers and suffered the most. The IAB decided to get it over with adding authorized digital sellers to the websites. This technology is going to make programmatic advertising transparent and give the control over inventory back to publishers.
So now before empowering a new advertising partner add his name to ads.txt and sign a special agreement to avoid traffic reselling. This will not only help you to get highest possible payouts for your inventory, but also protect your users from unverified ads. Luckily, 80% of desktop budgets advertisers spend on direct deals with publishers. That doesn't mean you have to push Nike or Apple face to face. Find ad agency that works out on marketing promotion of these brands. Offer them to place branded ads on the most eye-catching and performing placements of your website.
Give a chance to new ad formats
If you still hope to hit a jackpot by running standard desktop banners it is time to wake up. Samsung tried over 1500 unique display creatives in Q2. Could you imagine? Let's be honest. Standard banners might still work somehow, but they would definitely not become your next revenue booster. Switch to native ads or rich media ad formats. Send your inventory only to those ad agencies who will spend their time on designing customized creatives for your website. Before launching any type of ads, Epom Market team reviews the website content and makes suggestions on the most relevant ads and placements. When these things are agreed, they get down to creating natively looking ads that will match publishers concept and keep users engaged.
In case you want to stay classy and go on with standard banners, at least stick them to a certain place of the webpage when the user is scrolling. Be careful. The line between users loyalty and irritation is quite thin. That's why it is better to hand advertising activities over to professionals.
Care about performance
Not only advertisers should care about optimization and performance. As a publisher you should know where to put the ads to enhance performance for your advertisers and payouts for yourself. How do your users click and scroll through your website? Try out special services like Hotjar or Crazy Egg to better understand visitors' activity. They will help to pick up the best performing places for the ads. Such monitoring is a pivotal thing if you regularly add new content to the website. Put the ad blocks at the areas of users' highest interaction with your content and monitor the reaction to every change on your website.
How your website looks under the lens of these services? Maybe it is time to think about redesign?
Social media: are you in?
Social media are one of the key players in online advertising industry. For the past few years Facebook, Instagram, Twitter, Pinterest and other social platforms has grown into trendsetters with tremendous influence on the society. As of 2017, the average time, which Internet users spend in social media equals 135 minutes per day. 97% of online adults regularly visit social media. The situation with Millennials is even worse. Millennials live their lives in social media. So if you want to catch up with the young audience use social media as an additional engagement platform.The latter could also be a great source for getting new users on your website. Choose the most appropriate social platform after analyzing the basic measures about your users. Whether you decide on Facebook or Instagram don't start your activities without a clear marketing strategy.
To sum up, desktop monetization is now more specific and intricate than it used to be. Some publishers managed to catch up with the new reality and continue earning with desktop ads. Others scratch them out with a thick black line. The fact is, desktop advertising would never be outdated while people use desktop devices. Whether you will gain success or not depends on your monetization approach and choice of advertising partners. Let's move to practice now?
Turn your desktop monetization into your strength with Epom Market.
previous post
next post