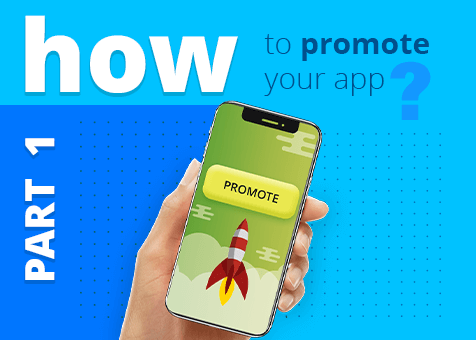 How to promote your mobile app: The Complete Guide, Part I
10 min read | by Epom
If you are caught up with the headline, you're probably thinking on your first app promotion in fiercely competitive landscape. In 2017 the total amount of apps in App Store and Google Play went over 5M. This fact means that now app developers should not only build an outstanding product or simplify people's lives, but also stand out from the bunch of hundreds of similar apps.
Having faced countless app promotion challenges, Epom Ad Agency team defined a common pattern of the app success. It has nothing to do with the miraculous overnight successes, but will be a handy long-term strategy framework for your app promotion. Ready?
Before you start...
After getting all app development and related things done, ask yourself: How people know about my product?
Let's imagine you've decided to open a health food store. You spent months sorting everything out and finally opened the door to the visitors. The first working day is almost over and there are only ten customers who entered the shop after noticing you handing out 30% OFF flyers near balloon-decorated show-case. There is not something you've expected, right?
Launching an online product is very similar to offline entrepreneurship. The fact that your app is available in App Store, Google Play or any other distribution platform doesn't guarantee people will easily find it. The very next thing you need to do is ask yourself: how to get the audience?
To start driving your first users, define a long-term marketing strategy. Where will your business be in 3, 6 or 12 months? The clearer your product vision is the better chances of your app success are.
Do you know your users? Which apps do they spend most of their virtual lives in? Which of their problems your app is solving? What value brings your app to user's life?
You've answered these questions before building your app. But you can never be too thorough when it comes to your app promotion. Double-checking could prove to be very useful in getting your app in front of the right audience. The average amount of apps used daily floats between 9 and 12. It's a great challenge to become one of these apps, so be ready to fight for your app's life.
App store promotion: get the benefits and jump over pitfalls
Choose the right app store
When your promotional strategy is ready, make the next step and add your app to the different app stores. Usually app developers start with Google Play and Apple stores. Distribution through App Store will cost you $ 90 per month. Google Play charges developers with only $ 25 registration fee and takes 30% of the list price for all sales. Notice that along with unlocking access to millions of Android and Apple devices you will have to stand out from 3.3M apps in Google Play and more than 2.2M apps in App Store.
Check out this list of worthy alternatives to Google Play and App Store: here are over 300 app store environments which distribute apps in different countries and niches. Trying out Amazon Appstore, GetJar, Appolicious, or any other related platform might bring very good results for your marketing campaign.
Before picking up an app store, consider the regions you'd like to cover. If you are going to come into the Chinese market, your key channels of promotion should include TencentMyApp, 360 Mobile Assistant, Xiaomi App Store, or Wandoujia.
Follow this detailed step-by-step guide and fulfill your app store submit form correctly.
Keywords optimization
Keywords play a crucial role if you want to make your app easy to find after the most relevant search requests. Devote enough time to adding best-targeted and related keywords to your app profile. Wrap your mind around the words you'd type in a search box while looking for the apps like yours. Tagging dozens of slightly related words is a superfluous work.
Useful services: SearchMan for gathering and search of the best applicable keywords.
Eye-catching profile
App description is really important in terms of app store optimisation and user experience. Tell the app store visitors what your app is about and highlight its main capabilities. The same approach should be applied to the icon design. Try to make it simple, memorable and stylish. Think about Twitter, Facebook or Pinterest icons, simple and attractive at the same time. Dashing screenshots will also be a strong point for your profile. Users are more likely to install an app when they already know what to expect from the interface and design.
Rates and reviews
High rates and reviews from your users will help your app to whip up to the first positions of the charts. Kindly ask your audience to rate your app or to spend a few minutes writing a short review for your product. Providing them with additional value like unlocking new content or virtual lives will increase your chances to get quality feedback. Getting a good ranking in the app store will also pull your ranking up in mobile search.
Mobile Advertising Agencies
Yet another efficient-proven channel for user acquisition and driving app downloads are mobile advertising agencies. The latest strengthen your brand awareness and do product promotion through mobile devices. The best thing about partnership with such companies is they assume all the promotion hassle and give you time for doing bona fide work on your app.
Before contacting any mobile ad agencies, consider on your ads. Creatives are the crucial part of your advertising campaign and a face of your brand. In case you are not willing to dwell on this stuff, ask your mobile ad agency to advice or create unique ads with high performance for your ad campaign specifically. The vast majority of ad agencies charge an additional fee for creating high-performing ads, but sometimes you can find a truly dedicated companies, who do it for free. For instance, Epom Ad Agency have web designers team who builds banners, landing pages, native or other ad units for all types of products and brands.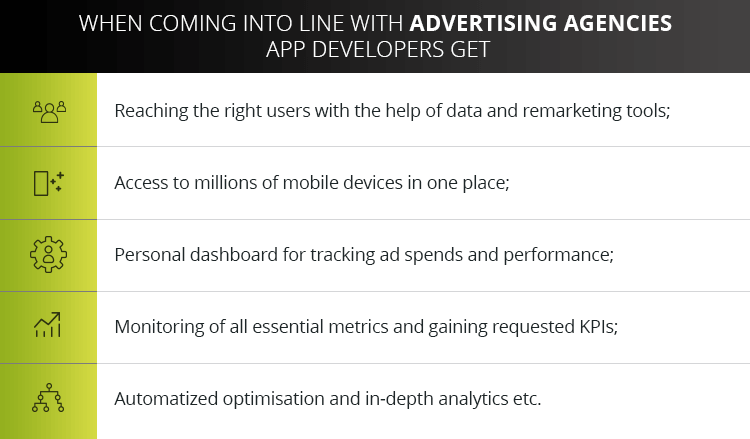 ! Make sure you've discussed your ad campaign goals, budget, rates, KPIs, expected retention rate and ROI with your personal agency manager before the ad campaign launch.
Some performance-based ad agencies like Epom Ad Agency are integrated with top ranked apps through a single SDK. So getting a personal advertising account at Epom automatically opens access to hundreds of active apps.
Yes, partnership with mobile ad agencies costs money. On the other hand, you are paying for the real results: installs, in-app purchases or new active users whereas ad serving and tracking remain free of charge.
Read the second part of our app promotion guide and discover more marketing tips not to be missed.
Ready to grow? Contact Epom Ad Agency team and we'll take care of your app promotion.
previous post
next post